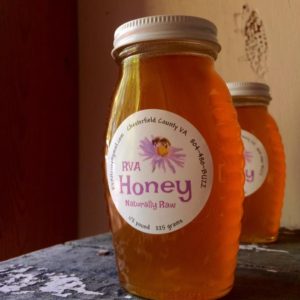 RVA Goats and Honey is a small business run out of our local farm by Pocahontas State Park in Chesterfield, Virginia. We specialize in all things honey bee selling raw wildflower honey and pollen as well as mentoring beekeepers and offering hive set up and maintenance. Our farm family also includes 27 goats which are available to rent for brush and weed management.
The farm is owned and managed by Kristi Orcutt, a Chesterfield resident who has been working in environmental education in the RVA area for over 20 years.
We love our customers and welcome your feedback and suggestions. Use our Contact Us page to tell us what we're doing right or what we can improve on.
You can visit our farm store at 10425 Spring Run Road Chesterfield, VA 23832 to purchase our honey, pollen, and eggs from our free range chickens.