Originally posted in the Henrico Monthly By Donna Gregory Burch
Lewis Ginter Botanical Garden recently added three landscapers to its staff.
But they don't use shovels, rakes or noisy power tools to do their jobs. Instead, Lewis Ginter's newly employed pygmy goats eat their way through any heavy foliage in their path, helping to control invasive plant species in the garden without the use of harmful chemicals.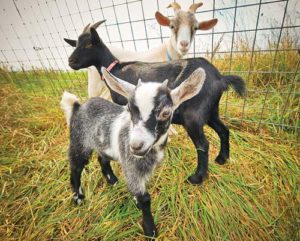 "Lewis Ginter would like to be a model of sustainable landscaping and horticulture since our mission is education," says Kristi Orcutt, the goats' owner and Lewis Ginter's children's garden program developer. "Anytime we can demonstrate chemical-free practices is a great thing."
For the past few months, Lewis Ginter has been experimenting with using goats to clear overgrown, remote areas of the garden. Orcutt loans the goats to the garden for a small fee and the goats do what comes naturally: They eat and eat and eat some more. And in their wake, they even leave a trail of fertilizer that's useful when replanting the cleared areas.
Previously, the garden utilized volunteers to clear invasive species, such as poison ivy, honeysuckle, bamboo and kudzu.
"We do have tons of volunteers at Lewis Ginter," says Grace Chapman, the garden's director of horticulture. "We have almost 600 people who help us, but even with all those people, it's all we can do to keep up with the formal garden."
Invasive species began claiming some of the more out-of-the-way areas of the garden because there wasn't enough manpower to keep them clear. One of the garden's goals is to promote sustainability and stewardship of the planet, so using toxic herbicides wasn't a feasible option.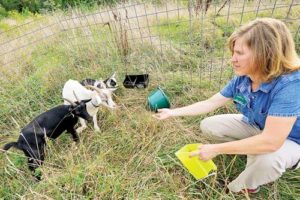 As a more natural approach to controlling invasive species, Orcutt's goats soon found themselves in a temporary home at the garden during the warm-weather months. The goats live in a circular pen, which can be moved wherever needed.
"The nice thing is they can get in on really steep terrain, where you can't get equipment and they don't damage trees," Orcutt says. "They will eat about 90 percent of plants in the pen. The remaining 10 percent are so much easier to manage once they've eaten away the briars and vegetation around them."
So far, the goats have been used in areas where visitors seldom tread. The plan is to clear out overgrown patches along the northern section of the garden, eventually installing new trails for visitors to enjoy.
There are no plans to build the goats a permanent enclosure like the petting zoo at Maymont Park in Richmond, but their movable pen may be added as a stop on the garden's sustainability tour.
For now, their job is to eat and keep eating.
"Invasive plants are very aggressive; they're not going to stop growing," Chapman says. "I could put the goats to work indefinitely. … I can have the goats do the dirty work for us."