Originally posted in 2014 in the Chesterfield Monthly By Donna Gregory Burch | Photos by Ash Daniel
With recent news stories about pink slime in ground beef, salmonella outbreaks in chicken and peanut butter, and the possible dangers of eating food containing genetically modified organisms, or GMOs, it's not hard to understand why the "eat local" movement is gaining ground.
County farmers are feeling the effects, as more and more consumers shy away from the preservative-laden boxes and bags lining supermarket shelves and seek out food sources closer to home.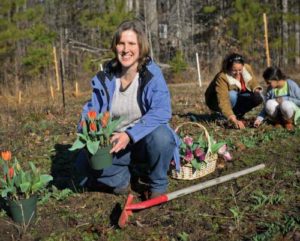 "When we buy agricultural products, every dollar we spend is essentially a vote for that agricultural system," says Kristi Orcutt, a county beekeeper and co-owner of Bright Hope Farm in Chesterfield. "Do we want to support a market that allows the use of pesticides so dangerous that they are banned in the United States? A market that has fewer worker and local watershed protections? Do we want to enjoy flowers and grapes that got to us via the burning of many, many gallons of fuel?"
Locavores, defined as people who are interested in buying food and other products that are produced locally, are changing the way small farmers do business.
"I worked as a volunteer at the state fair honey booth [last] year, and there was honey available from apiaries from all over the state," Orcutt says. "People were shopping by ZIP code. People that suffer from allergies feel that consuming local honey regularly will ease their allergy symptoms. Shoppers were looking for honey with the name of their town or county on the label."
Orcutt is changing the labeling of her own honey to match the trend.
"I keep hives in Dinwiddie, Lakeside, Powhatan, Maidens, Chesterfield and Bon Air, so I am labeling the frames in each hive with the ZIP code where they are located when they are filled with honey, so when I extract and bottle it, I can print that ZIP code right on the bottle," she says. "I am truly curious to know how that affects sales. I think people will love it."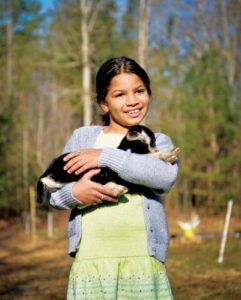 This will be the second year that Orcutt's Spring Run Road farm will sell pick-your-own, organically grown flowers. She and partner Harlan Williams planted about 14,000 tulip bulbs last fall with the hope of a bumper crop beginning this month. The tulips and other flowers provide a valuable food source for four of Orcutt's beehives, which she keeps on two adjoining properties.
Initially, Orcutt and Williams had planned to pick the flowers themselves and sell them at local farmers markets. But after dealing with scads of flowers damaged during the trip from field to market, the duo shifted to a different strategy.
"We [decided] we would go superlocal and invite people to come to the farm, get to know us, see where the tulips, other flowers, herbs and vegetables, honey and eggs are grown, and see how they are grown," she says. "Visitors can see the bees, chickens, compost piles, worm bins and watch as we work. There are no chemical sprayers to be found on the farm – no pump or drip systems with pesticides or fertilizers. We do it by hand, and in turn, care for the land."
Orcutt and Williams man the farm on weekends and rely on an honor system for flower-pickers during the week, when both are working other jobs.
While the goal is to make a profit – or at least break even – on the flower farm, Orcutt has a larger vision in mind.
"Really the big purpose is hopefully to inspire and educate," she says. "As I drive around, I see a lot of rural and suburban yards unused. If we just have grass or nonnative shrubs, then that doesn't benefit anyone."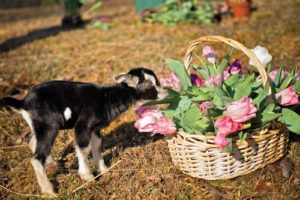 She's hoping the farm will prompt others to plant more pollinator-friendly flowers and native plants. Pollinators, such as honeybees and butterflies, depend on the nectar from certain flowers for survival.
And while many gardeners may think their flower beds are helping the environment, they may not realize they could be contributing to the demise of honeybee and butterfly populations.
Many commercially sold bulbs and plants are actually treated with insecticides that have been linked to mass die-offs, particularly among bee species. That's why it's important to plant organically, Orcutt says.
"Know your source," she says. "Be sure the plants you get are pollinator safe. Buying safe flowers is almost as hard as buying safe food."
She plans to share that message with visitors to Bright Hope Farm.